HC- DARK CHOCOLATE CHILI WITH GRASS-FED BISON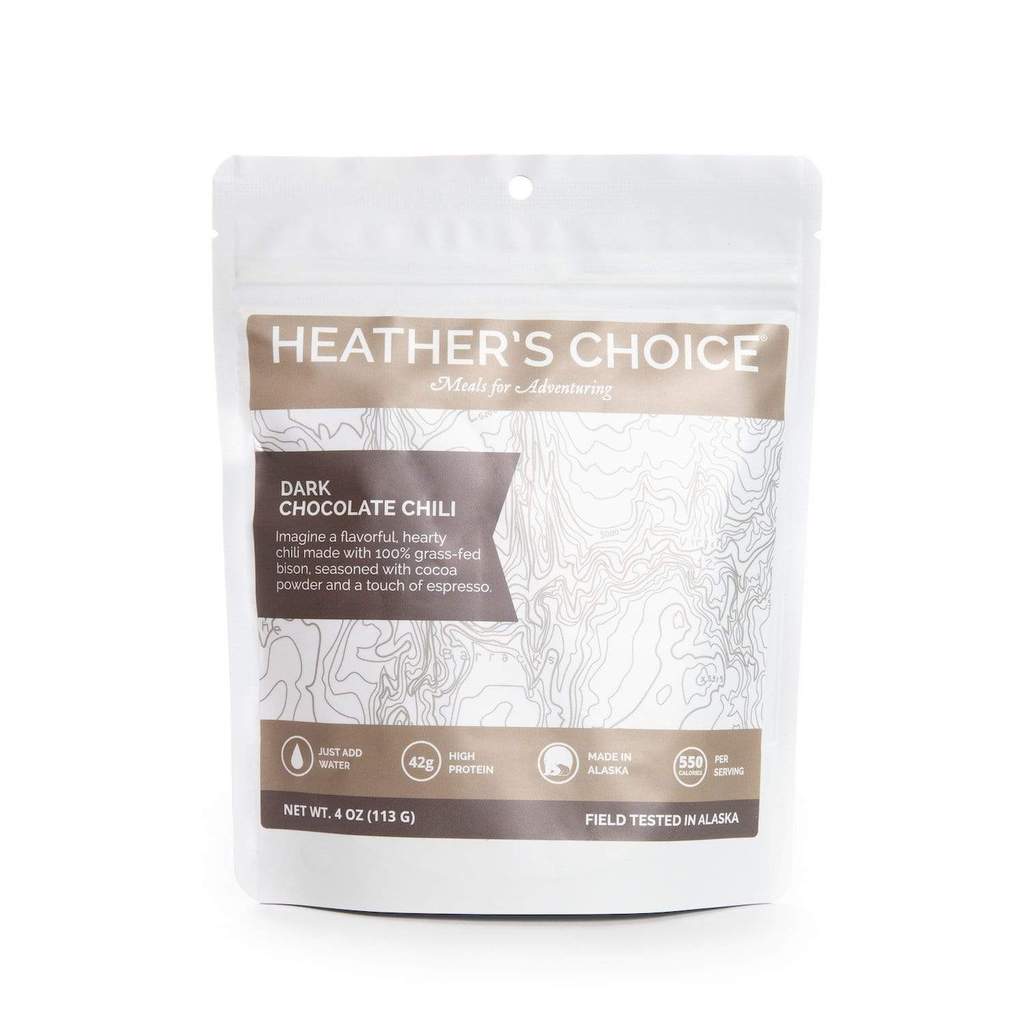 Heather's Choice Dark Chocolate Chili is a high-calorie backpacking food option made with 100% grass-fed ground bison from Delta, Alaska. Our dehydrated backpacking foods contain no artificial flavors, MSG, fillers, or preservatives. Enjoy an ultralight backcountry meal made with all real ingredients, no surprises. Heather's Choice backcountry meals and snacks provide an allergen-safe backpacking food option for individuals with a wide range of dietary restrictions. Our Dark Chocolate Chili dinner is free of gluten, soy, eggs, tree nuts, peanuts, and dairy.
Our just add water meals are a convenient solution both on and off the trail! Heather's Choice products are ready for your next hiking, backpacking, backcountry hunting, fishing, or boating adventure. Our lightweight, packable meals are easy to stow on any outdoor recreational adventure and require just boiling water to prepare. Enjoy the same ready to eat convenience at home or in the office!
Nutrition Facts
Serving Size: 1 Pouch (113g). Servings Per Container: 1. Amount Per Serving: Calories: 550, Calories From Fat: 130, Total Fat 14g (22% DV), Saturated Fat: 5g (25% DV), Trans Fat 0g, Cholesterol: 95mg (32% DV), Sodium: 870mg (36% DV), Total Carb: 70g (23% DV), Dietary Fiber: 13g (52% DV), Sugars: 11g, Protein: 42g, Vit A (35% DV), Vit C (80% DV), Calcium (10% DV), Iron (50% DV). *Percent Daily Values are based on a 2,000 calorie diet.
Ingredients
100% Grass-Fed Bison. Plum Tomatoes. Sweet Potatoes. Onions. Garlic. Tomato Paste. Unsweetened Cocoa Powder. Chili Powder. Cumin. Espresso. Allspice. Sea Salt. Black Pepper. Oregano.