FIRESTART® CUBES FIRESTARTERS 1 CUBE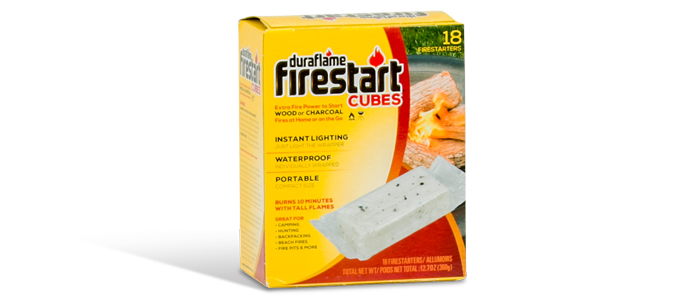 Duraflame® firestart® CUBES give you the fire power you need to start wood or charcoal fires at home or on-the-go. Firestart CUBES maintain a long-burning, consistent flame to help you get a quick and easy start to your fires.
Burns 10 minutes with tall flames
Instant lighting cube – just light the wrapper
Individually wrapped in water-resistant wrappers
Portable and compact - great for camping, hunting, backpacking, beach fires, fire pits, charcoal grills, and more Made from safe, odorless kerosene with special lignite spots for a hotter, more consistent burn

MULTI-PURPOSE FIRE POWER

These portable, individually wrapped cubes are all you need to start a great wood or charcoal fire wherever you are. Just light the wrapper for an instant start to any wood fire in your fireplace, fire pit or campfire. Safer than using charcoal lighter fluid, you can count on them to light your grills, smokers, charcoal chimneys and Kamodo Grills.

REDUCES EMISSIONS

Lighting wood fires with newspaper or kindling produces a significant portion of the total emissions of a wood fire. Using duraflame® firestarters to light a wood fire results in faster and more complete ignition of the fire reducing emissions of particulate matter and carbon monoxide.