Fillet Table - with bucket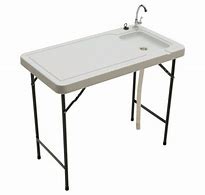 Deluxe Fillet Table and bucket


Perfect for cleaning your catch or small game

Garden hose easily attaches to the quick-connect faucet

Tapered channel flows the water to the drain hose

Built in ruler on the table tells you the size of every catch

After a long day on the water or in the field, a long evening of cleaning your catch needs to be made efficient; This deluxe Fillet Table does just that. Because filleting fish on this table is so easy, cleaning waterfowl and upland game is a cinch, as well. Attach your garden hose to the quick-connect faucet for a consistent water source anywhere your hose will reach. Tapered channel flows the water to the drain hose to keep a clutter-free cleaning surface. Built in ruler shows you the size of every catch.

44"L x 23.5"W x 37"H.

Wt capacity: 150 lbs.
Table Weighs 26 pounds