Generator - Yamaha 2000 or Honda 2200 Watt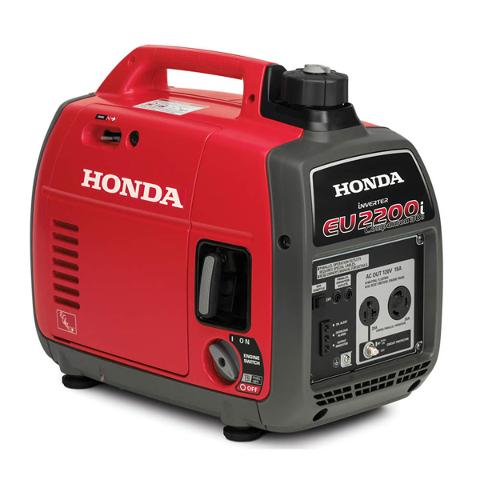 Upgraded, Power-Packed, Quiet and Lightweight

Honda EU2200i Companion 2200 Watt Inverter GeneratorOVERVIEW
Honda EU2200i Companion 2200 Watt Inverter Generator - The EU2200i Companion offers one 30A receptacle for RV applications (requires optional adaptor) and one 20A receptacle. The 30A receptacle allows 2 EU2200i models to be run in parallel by way of a simple parallel cord and not an external parallel kit. Need more power? Connect the EU2200i Companion with a regular EU2200i for up to 4400 watts of power. The EU2200i Companion will also parallel with EU2000iK1/T1 models. The EU2200i Companion can operate a wide variety of appliances, making it perfect for portable use at home, camping, on the jobsite, or much more. Take a look at the applications tab for more examples. The EU2200i Companion is powered by the Honda GXR120 Commercial Series engine. The GXR120 delivers exceptionally quiet, smooth, fuel-efficient performance in a small, lightweight package. The size of a generator's engine directly correlates to how much power it can produce. At 121cc, the GXR120 is at the top of its class - ensuring the EU2200 Companion always produces the power you need to get the job done. Originally developed for heavy duty construction equipment, the GXR120 also delivers superb durability and reliability. The EU2200i Companion is designed for quick and easy starting. Honda's automatic mechanical decompressor system significantly reduces the amount of force needed to start the engine. Operational contact points are color-coded in gray to quickly guide the user through the starting operation. Weighing less than 47 pounds, the EU2000i Companion is incredibly lightweight and portable, thanks to Honda's inverter technology. Thanks to Honda's exclusive Eco Throttle System, the EU2200i Companion offers great fuel efficiency. Runs 3.2 to 8.1 hours on a single tank, depending on the load. This makes it great for overnight power.
Built in 30A outlet for easy parallel capability with another EU2200i EF2000iSv2, 200 Running Watts/2000 Starting Watts, Gas Powered Portable Inverter
Ideal for TV, DVD, satellite, fridge, coffee pot, and more
Great for RV applications
Super quiet - like a conversation
Inverter - stable power for computers & sensitive equipment
Engine: Honda GXR120
Displacement: 121cc
Run Time per Tankful: 3.2hr rated load 8.1 hrs 0.25 load
-----------------------------------------------------------------------------------------------------------------------------------------------
Yamaha's EF2000iSv2 inverter generator quietly powers a wider range of applications for an extended time, while still portable and retro-cool. The completely new controller with advanced programming gives the EF2000iSv2 the ability to power a much wider range of applications than previous generation EF2000iS. At less than 45 pounds, it is lightweight, very compact (2.2 cu.ft.) which makes it easy to store and transport
Clean, high quality
The Yamaha EF2000iSv2 Inverter generator supplies clean, high quality power. The EF2000iSV2 – with its inverter system – features Pulse Width Modulation (PWM) so voltage stability is within ± 1%, and frequency stability is ± 0.1 HZ. Its pure sine wave is as clean as or cleaner than public utilities power
Long Run Time
The EF2000iSv2 features Smart Throttle, a load sensing rpm control that allows greater fuel efficiency and noise reduction by automatically adjusting engine speed to match the load. It will run up to 10.5 hours at ¼ rated load on a tank of gas.

An Ounce of Prevention...
Oil Watch Warning system — Prevents engine damage caused by low oil, avoiding costly repairs and minimizing down time, adding customer confidence and peace of mind. Electrical overload breaker — Prevents generator damage in case of overload.

Comparison
Yamaha EF2000iSv2

Type
Inverter Generator

Rated / Maximum AC Output
1600 watts / 2000 watts

Rated / Maximum AC Current
13.3 / 16.7 amps @ 120V

Engine
79cc OHV, air-cooled, single cylinder, 4-stroke

Weight / Dimensions: Length x Width x Height
44.1 pounds / 19.3 x 11.0 x 17.9 inches

Fuel Tank Capacity
1.1 gallons

Continuous Operation at 1/4 Rated Load
10.5 hours

Noise Level
51.5 - 61 dB