Marine Radio - Handheld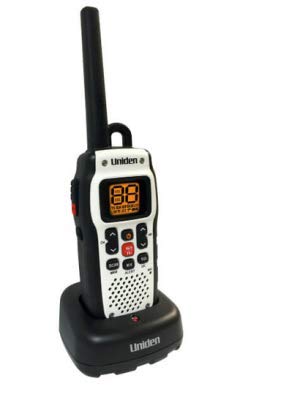 Atlantis 270 Handheld Floating Two-Way VHF Marine Radio
The Uniden Atlantis continues Uniden's tradition of providing tough and reliable handheld radios. It features all NOAA weather channels, as well as all USA, International and Canadian marine channels. It also meets Submersible waterproof standards.The Atlantis's brilliant backlit LCD display makes it easy to use, day or night for the power to go anywhere.
Convenient floating design
10-hour battery life for long-lasting use
Six watts of reliable output power
Easy-to-read display screen
This 6-watt handheld radio provides a long-lasting, 10-hour battery life in a rugged floating design.
The 18mm x 37mm screen boasts an easy-to-read, glowing display for hassle-free operation both day and night.
Power key and button seals glow for enhanced ease of use.
Includes: power-boost key, charging cradle, AC and DC adapters.