Canoe - Kayak Tandem Hybrid - Heron Old Town (With/ Fishing Options) includes paddles, pfds, bilge pump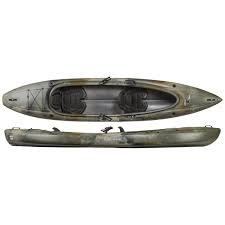 includes paddles, pfds, bilge pump

The Twin Heron is a truly unique tandem kayak. Featuring the innovative Auto Trim Hull, the Twin Heron is a tandem that performs well when paddled solo. The Auto Trim Hull is designed to prevent the bow from popping up when someone is seated solo in the stern seat. And, if that's not enough, you can completely remove the front seat making it perfect for your dog to ride along or easy access to your hunting or fishing gear. The Twin Heron is a great option for the outdoors family looking for a versatile craft.
Adjustable Comfort Flex seat
Removable front seat

Auto Trim hull, Glide Track foot brace system, Carrying handle, Cup holders, Paddle holders, Rear bungee

Color Green Grey
Activity Recreation, StyleSit-Inside, PropulsionPaddle, Material Three Layer Polyethylene
Seat TypeComfort Flex
Length 13' 6" | 4.1 m Width 31.5 in | 80 cm
Cockpit 93.5 in x 23 in | 237.5 cm x 58.4 cm
Weight capacity 500 lbs. Kayak weighs 60 lbs.