Kayak Inflatable Tandem Strike Tributary (Includes Paddles, PFD, Pump, Carry Bag)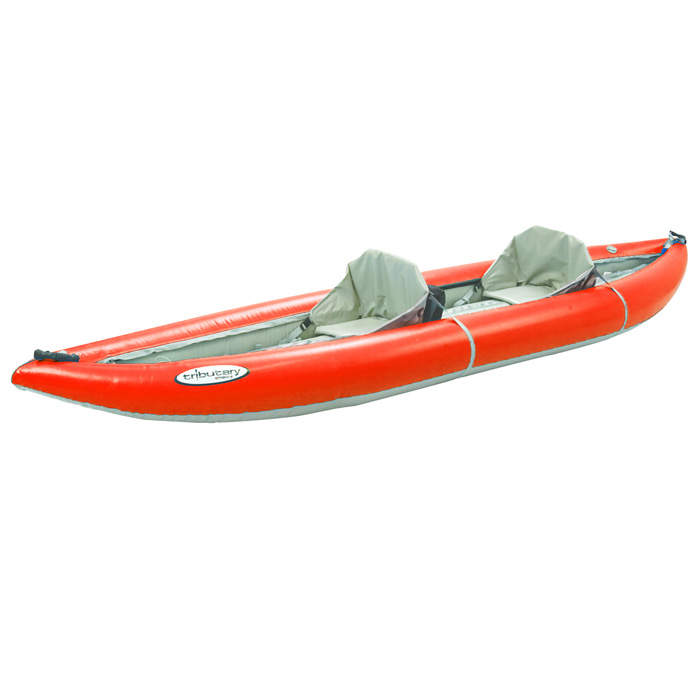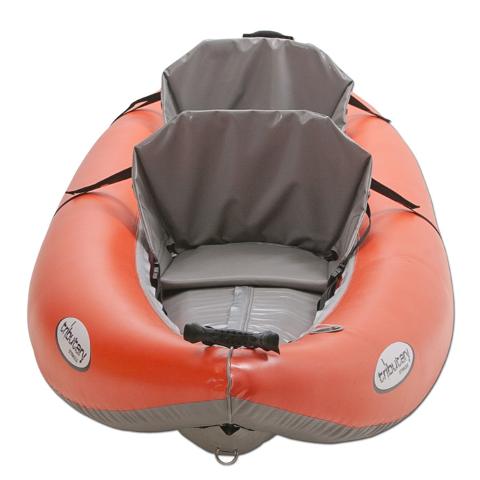 Length:12' 4"Width: 36.5"Weight:37 lbs. 300 lbs. Weight capacity
A good choice for beginners, the Tributary Strike 2 Inflatable Kayak tracks efficiently in both rapids or in flat water. This crossover IK has something for everyone.
Its unique hull design makes the Strike 2 a maneuverable whitewater boat as well as a calm water kayak with excellent tracking characteristics.

Tough PVC-coated nylon outer skin, welded seams and urethane AIREcell bladders add to its durable design.

An upturned bow and stern deflect waves without catching too much wind.

Comfortable Cheetah Chair seats can be easily moved where you need them and the roomy pockets on their backs hold lots of accessories.

16 sets of inner cargo loops anchor the seats and make great gear tiedown points.

Redesigned with a beefier bow and stern plus comfortable carry handles.

The mesh drain holes shed water quicker and keep debris from entering from underneath.

Have fun with a partner or run it solo with plenty of gear for overnight adventures.

If you're looking for a IK that can take you on both whitewater action and flatwater cruising, plus let you pack plenty of gear for overnight camping, look no further.

A crossover boat sized for two, this is the tandem version of our Strike, with all the same great features. Take advantage of its size and load it with gear for a scenic fall camping getaway, or hit a runoff-swollen river in the spring for an adrenaline surge. The unique V hull design handles both well.




Activity Type: Recreation, Whitewater

Water Type: Flat/Sheltered Water, River/Creek (Up to Class II)

Duration: Day Trip, 2-3 Day Trip

Skill Level: Beginner, Intermediate

Ideal Paddler Size: Average Adult, Larger Adult




The Tributary Strike 2 is intended more as a multi-use kayak compared to Tomcat II, Lynx or Outfitter tandems, falling in between them and the SuperLynx. Even so a number of our customers have been using Strike tandems in some high flow desert rivers with good results. Some of AIRE's employees we've talked to have also said they liked paddling it at least as much as the Lynx II, and the consensus is that it's a bit faster too, if a bit wetter. As long as your whitewater does not include large diagonal waves that tend to push & turn the bow, the Strikes will do well up to moderate, lower-flow class IV, and they work well in almost all class III situations.